Jesse Sublett

AUTHOR | ARTIST| MUSICIAN
  

Jesse Sublett's published works include critically acclaimed detective novels as well as true crime and works on culture, history and biography. His essays and features have been published in the New York Times, Texas Monthly, Texas Observer and the Austin Chronicle. At bottom, see a select list of Jesse's published books.
AUTHOR NEWS
May 15, 2022
Like a blast from a sawed-off shotgun, Last Gangster in Austin is hitting the summer reads lists. Rounding out the latest: Alcalde, the UT Alumni publication, mentioning the book alongside a new bio of the late, great Barbara Jordan and novelist Stephen Harrigan's latest, The Leopard, see it here… There's a nice recommendation in Austin Monthly… Hollywood insiders looking for new IP (such as books) to option for film and TV are reading about it on the hot tip sheet The Optionist, a Substack publication headed by Andrew Lewis, formerly of The Hollywood Reporter. Lewis writes that Ronnie Earle and Frank Smith are "the ying and yang" [of] a great story that goes from the backrooms of Austin's juke joints to the state capital and everywhere in between and features a colorful cast of hit men, hookers and a great crusading journalist — plus a Willie Nelson cameo!" Plus, he writes, "This is such a rich, rich world that someone could have a field day creating a show."
May 12, 2022
Preorder your copy of "Last Gangster in Austin" between right now and June 30 for a whopping 40% off the list price. Go to UT Press and enter the promo code UTXSPRING and buy a bunch of copies for only $13. Cheaper than Amazon and good for your soul.

Heads up, mark your calendars: Weds. July 6, 12:00-1:00 High Noon Talks at the Bullock: Jesse will present a one-hour thing on Last Gangster in Austin, free and fascinating. RSVP & Details here. Thursday, July 7, 7:00 PM – 8:00 PM, BookPeople will host the official launch and book signing of "Last Gangster in Austin." Jesse will be interviewed by W.K. "Kip" Stratton, author of The Wild Bunch: Sam Peckinpah, a Revolution in Hollywood, and the Making of a Legendary Film and eight other books; also a member of the mysterious authors group known as The Knuckleheads, of which Jesse is a founding member.
May 1, 2022
"Last Gangster in Austin is a "vividly detailed and stylishly written portrait of an Austin long gone by," according to the influential trade mag Kirkus. The review calls out several choice, colorful lines about the story's hero, longtime district attorney Ronnie Earle, along with the antagonist, Frank Smith. Read it here.
December 2021:
Jesse's 13th book, Last Gangster in Austin: Frank Smith, Ronnie Earle, and the End of a Junkyard Mafia, will be published by UT Press in May 2022. Watch this space for news about book signing events, author appearances, and press reviews. The advance word is good!
Skip Hollandsworth (Texas Monthly staff writer and author of Midnight Assassin) writes: "A rookie District Attorney. A wily, backslapping multimillionaire bail bondsman. And one of the biggest criminal investigations in Austin history. Sublett's book is both a riveting crime story and a character-rich study of Austin, Texas. It's smartly crafted and excellently researched."
Kathryn Casey (In Plain Sight: The Kaufman County Prosecutor Murders), writes:  "Once again Jesse Sublett proves that the Lone Star State's capital lives up to its mantra: Keep Austin weird. Enjoy this romp back in time to the era when Ronnie Earle ruled at the courthouse and Frank Smith in the salvage business."
Follow Jesse's author and music news on Instagram at @jessesublett, and his art news at @jessesublett.visualart.
Last Gangster in Austin
by Jesse Sublett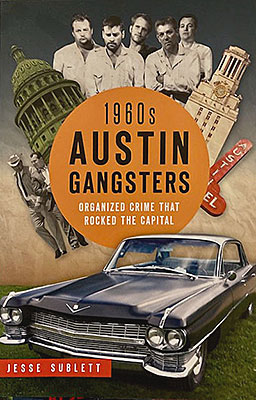 1960s Austin Gangsters
by Jesse Sublett. Contact Jesse for a signed copy.
Armadillo World Headquarters
by Eddie Wilson with Jesse Sublett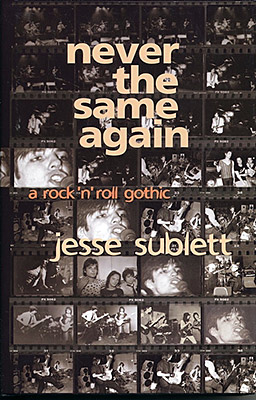 Never The Same Again
by Jesse Sublett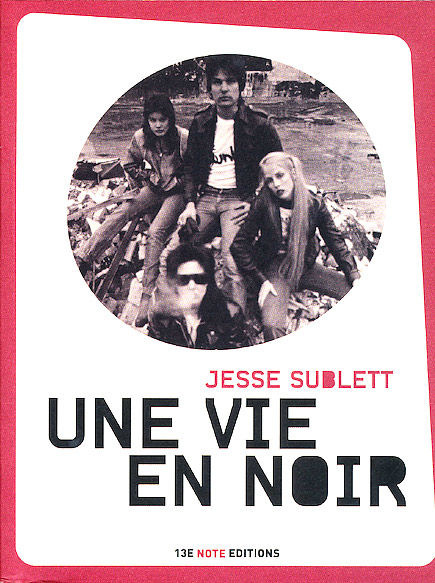 Une Vie En Noir
by Jesse Sublett. A French translation, specially-curated collection of nonfiction, fiction, poetry and lyrics. Out of print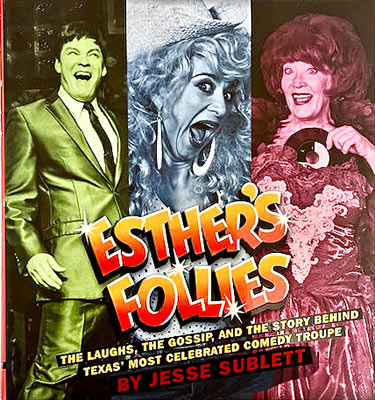 Esther's Follies
by Jesse Sublett
ORDER FROM ESTHER'S FOLLIES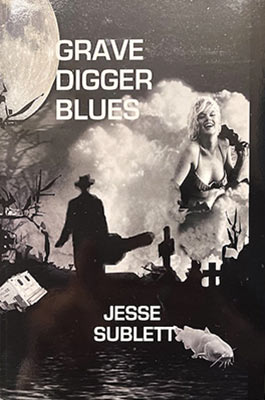 Grave Digger Blues
by Jesse Sublett. Contact Jesse for a signed copy.
The Martin Fender Mystery Novels

Rock Critic Murders, the first Martin Fender novel, was published in 1989. Jesse and Lois had left Austin for Los Angeles in 1987. Within two months, Jesse had an agent and a book deal with Viking Penguin for his crime novels.
The series character – a blues musician who moonlights as a private detective and skip tracer, originated with a series of short pieces published in the Austin Chronicle starting in 1983.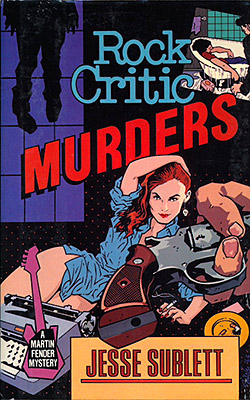 Rock Critic Murders, the first Martin Fender novel.
by Jesse Sublett
Tough Baby, the 2nd Martin Fender novel
by Jesse Sublett
Boiled In Concrete, the 3rd Martin Fender novel
by Jesse Sublett
Rock Critic Murders, the first Martin Fender novel. Dell Paperback
by Jesse Sublett