Jesse Sublett

AUTHOR | ARTIST | MUSICIAN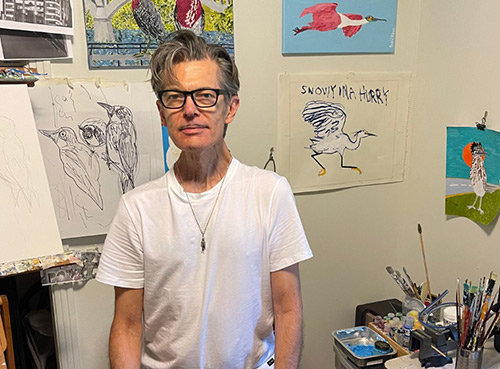 ARTIST GALLERY
You've landed on Jesse Sublett's visual art gallery page. Click on each image for a larger version. If interested in purchasing one of the unsold paintings, send a message through the contact page, or click the red button below. Check back to see new works and news.
Follow Jesse's art adventures on Instagram @JesseSublett.visualart, and Jesse's book and music career at @JesseSublett, through the links at the top of the page.
ARTIST NEWS
May 1, 2022
It's taken us a while to update the gallery. However, the last few months have been busy but creatively rewarding and inspiring. In February we left Austin for an extended sabbatical in Los Angeles. We're living at the edge of the Hollywood Hills in a neighborhood known as the Hollywood Dell. Next door to Beachwood Canyon and in clear view of the Hollywood sign, we are surrounded by jacaranda and palm trees and gorgeous blue skies.

December 1, 2021
The Austin bird paintings have been selling quickly, sometimes as soon as a new one is posted online. In late November, a limited run of signed and numbered digital prints was offered and proved so popular that we'll be offering limited art prints again in the future. If interested, click the red button to send us a message.