About Jesse Sublett
AUTHOR | ARTIST | MUSICIAN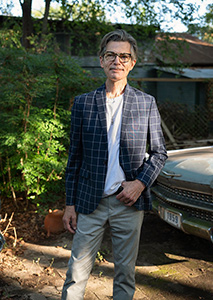 For several decades now, Jesse Sublett—author, artist, musician–has been doing his part to make Austin one of the coolest places on the planet.
Jesse Sublett is a music legend here. According to Margaret Moser, who witnessed the debut of Sublett's punk band, The Skunks, at Raul's in January 1978, hailed that night as "a turning point in Austin's musical history," remarking that "The Skunks blasted away with unrestrained defiance. Dozens of bands came in The Skunks' wake… They were the premiere recording and touring band of the first wave of Raul's bands." Besides opening for The Clash, The Ramones, The Police and others, Sublett has also played with rock luminaries Mick Taylor, Ian McLagen, Kathy Valentine, Carla Olson, Barry Goldberg and others.
As a writer, Jesse has been published in the New York Times, Texas Monthly and the Austin Chronicle, and has also written for television and film. His book writing career began with Rock Critic Murders, the first of a trilogy of Martin Fender novels, set in the Austin music scene of the 1980s. His memoir, Never the Same Again, was praised by Michael Connelly as "crazy, funny, and sometimes deeply tragic, but ultimately, an inspiring and always highly readable survivor's tale." Other books, such as Armadillo World Headquarters: A Memoir (with Eddie Wilson), and Esther's Follies, investigate the creative aspects of the live music capital of the world, while his true crime classic, 1960s Austin Gangsters, takes readers on a joy ride through the Texas underworld of the mid-1960s. Last Gangster in Austin: Frank Smith, Ronnie Earle, and the End of a Junkyard Mafia, coming April 19, 2022, will be Sublett's 13th book.
As a visual artist, Jesse works primarily with acrylic on canvas. His bold color choices and slightly whimsical characterizations of the interface between natural environments and the urban world—most often with bird life looming hugely in the foreground–and have proved immensely popular among collectors and fans. The Birds of Austin series shows us these creatures against the changing Austin city skyline, the shore of Lady Bird Lake, or at the doorstep of iconic music venues like the Skyline Club, the Continental Club, or Armadillo World Headquarters.